Empereur Intergalactique
Messages : 42574
Enregistré le : mer. août 18, 2004 5:26 pm
Localisation : Brest
Au printemps, je vais quelquefois m'asseoir à la lisière d'un champ fleuri.
Lorsqu'une belle jeune fille m'apporte une coupe de vin , je ne pense guère à mon salut.
Si j'avais cette préoccupation, je vaudrais moins qu'un chien
Grand Inquisiteur
Messages : 23468
Enregistré le : ven. janv. 28, 2005 9:54 pm
Localisation : Cosne sur Loire
J'ai supprimé le doublon.

Les infos disponibles sur le jeu.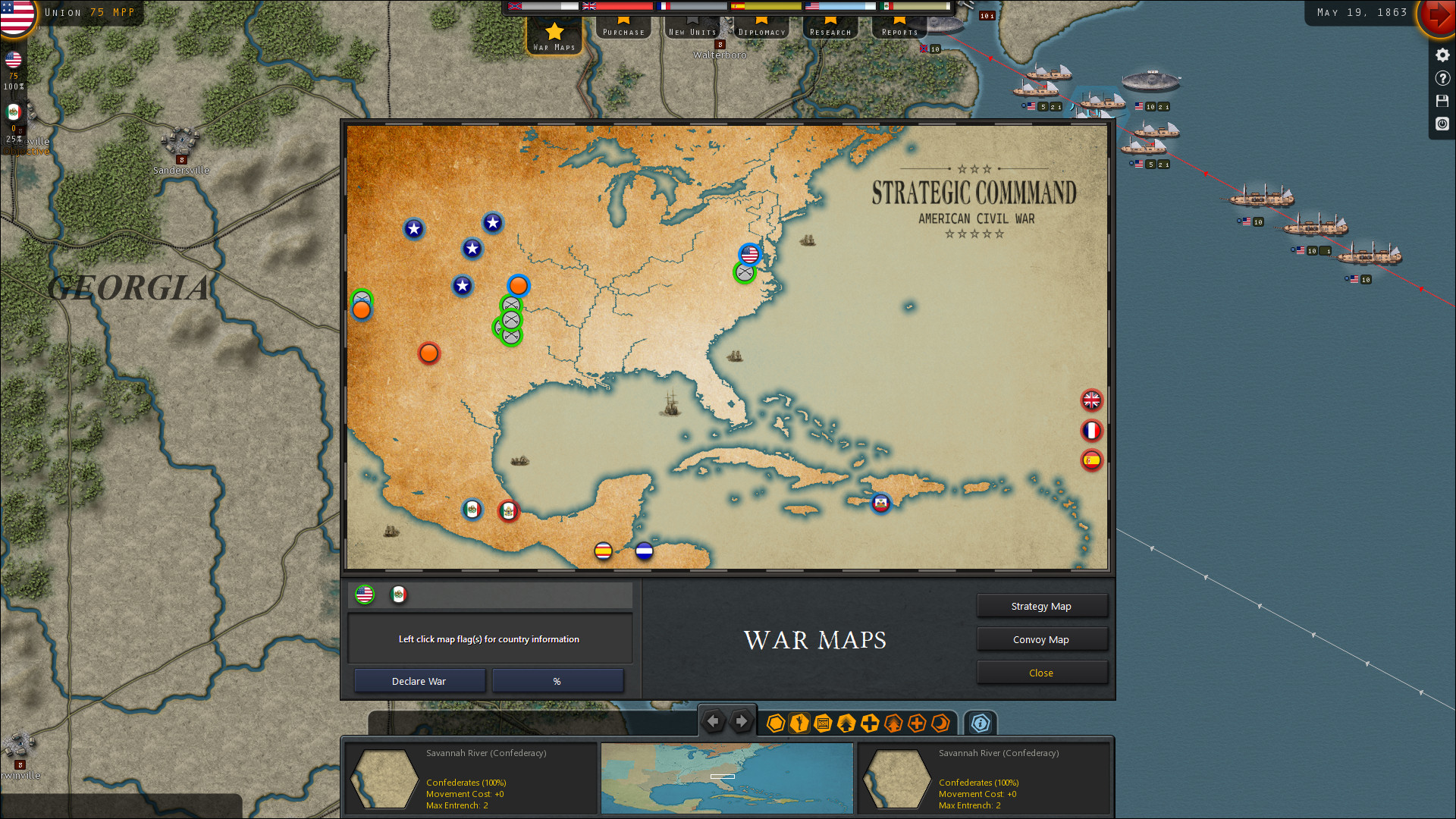 For the first time in the series' history, Strategic Command will be taking you to the 19th century battlefields of the American Civil War. In this turn-based strategy game, you will control the armies, research, production and diplomatic policy of either the Union or the Confederacy during a time of great innovation and dramatic battles. Your decisions will determine whether the United States leaves this conflict as one nation or two.

What are your orders, Mr President?


A BRAND NEW BATTLEFIELD

Strategic Command: American Civil War comes with a massive 296 x 224 map, covering all of North America from Canada and New Mexico to the Caribbean at a 15km/9mi scale. This is the largest hex-based map ever offered by the Strategic Command series!

COMMAND YOUR ARMIES

With few professional soldiers ready to fight at the beginning of 1861, building an army will be just as important as ordering your men into battle. Thousands of volunteers are enlisting, and you will need to organise them into Brigades, Divisions and eventually Corps. Research will have to be undertaken to improve their weaponry and fighting skills.

Once their training is complete, you will be able to choose from a variety of famous Generals to lead them, including Lee, Jackson, Grant, McClellan, Beauregard and Sherman. With the fate of entire armies hinging on single battles, the appointment of talented Generals may well be the difference between victory and defeat.

RIVER WARFARE

The great rivers of North America, including the Mississippi, Ohio and Cumberland, can now be navigated by all-new river warships, with inland ports offering the opportunity for rapid movement, and their waters bringing the danger of amphibious attack.

THE AGE OF THE IRONCLAD

The war on the high seas has also been expanded, with ships now divided into rivercraft, coastal and sea-going vessels, and wooden and ironclad construction. With the most diverse roster of warships ever offered by a Strategic Command game, your admirals will have more opportunities than ever before to achieve victory at sea.

RECONNAISSANCE REWORKED

The fog of war has never been more important in shaping your success on the battlefield, as the lack of radio communications means that cavalry will be essential to locating enemy armies and avoiding ambush. Infantry scout detachments, partisan rangers and armoured trains can also be trained to expand the recon capabilities of your armies, while Generals willing to use experimental technology will have the opportunity to use observation balloons, taking the war to the skies.

EUROPEAN INTERVENTION

Diplomatic action, battlefield success and decision events such as the sale of the Confederate Cotton Stockpile or the Emancipation Proclamation will determine whether the European Great Powers intervene in the Civil War. The UK, France and Spain can all be persuaded to support the Confederate cause, and their entry could greatly alter the war's outcome.

WAR IN MEXICO

As the Civil War divides the United States, the French Emperor Napoleon III is engaged in another battle for control of Mexico. The front lines in America's southern neighbour will be constantly changing, and if France should enter the war, players will be able to take up the flag of the Republic or the Empire as the Civil War grows into a conflict to determine the fate of all of North America!

...AND MUCH MORE!

Using an enhanced version of the engine used by our WWI and WWII games, American Civil War also incorporates all of the much-loved features from previous titles in the series, ensuring that a great gaming experience awaits series veterans and new recruits alike!
Sortie le 5 avril.
N'étant pas fan du contexte je passerai probablement mon tour mais on ne sait jamais.
Empereur Intergalactique
Messages : 42574
Enregistré le : mer. août 18, 2004 5:26 pm
Localisation : Brest
l'union ayant accumulée les raclées jusqu'en 1863 je crains pour l'effet "boule de neige" sur les armées du nord ......
Au printemps, je vais quelquefois m'asseoir à la lisière d'un champ fleuri.
Lorsqu'une belle jeune fille m'apporte une coupe de vin , je ne pense guère à mon salut.
Si j'avais cette préoccupation, je vaudrais moins qu'un chien
Encyclopédie du forum

Messages : 7899
Enregistré le : jeu. mars 18, 2010 4:48 pm
Localisation : Aire-sur-Adour
We are a band of brothers, and native to the soil ... fighting for our liberty with treasure, blood and toil !!

C'est marrant, je regardais il y a peu s'il existait des mods ACW pour les précédentes versions de SC ...

"You know, in this world, there's two kinds of people, my friend. Those who have a loaded gun, and those who dig in. You dig in ..."
"If you work for a living, why do you kill yourself working ?"
Liste des AARs
Ca m'excite bien ça

L'État, c'est la grande fiction à travers laquelle tout le monde s'efforce de vivre aux dépens de tout le monde
Frédéric Bastiat
Bien des gens qui se considèrent très au-dessus des aberrations du nazisme et qui en haïssent très sincèrement toutes les manifestations, travaillent en même temps pour des idéaux dont la réalisation mènerait tout droit à cette tyrannie abhorrée
Friedrich Hayek
Je n'ai pas l'impression qu'il ait déplacé les foules. Après avoir joué les deux camps contre l'IA, je trouve qu'il n'est pas mal du tout, peut-être un peu trop facile, à moins que je ne commence à savoir jouer aux SC.
Comme pour SCWW1, c'était Von Aasen qui m'avait ouvert les yeux lors de parties en réseau, je suis sûr qu'une partie "réelle" doit être très surprenante.
Foudre de Guerre

Messages : 1561
Enregistré le : ven. mars 13, 2009 12:38 pm
Localisation : Dawg pound
J'ai jamais accroché a cette série qui me fait penser a un "Risk" amélioré.
A part pour les fans de la série je ne vois pas qui pourrais acheter ce jeu qui est largement dépassé par les autres jeux sur la période.
la race humaine n'est qu'un incident trivial dans l'histoire de la création : l'humanité est peut être une erreur, une excroissance anormale, une maladie du système de la Nature.(HPL)
Plombier CSS/PHP/SQL

Messages : 13099
Enregistré le : mar. août 17, 2004 8:04 pm
Localisation : Baraque Friture
Contact :
Bah c'est surtout destiné au public US, quand on possède et apprécie déjà les jeux ageod sur cette période y'a pas grand chose qui penche à l'achat de cet opus.
Grand Inquisiteur
Messages : 23468
Enregistré le : ven. janv. 28, 2005 9:54 pm
Localisation : Cosne sur Loire
Le jeu est disponible sur Steam et sur GoG.

Au prix de 33,99€.
Bonjour,
J'ai testé une première partie avec la Confédration, pas évident comme ça, je tiens jusqu'en début 1862 mais ensuite, c'est un peu plus dur et je me fais repousser à l'Est. Je pense recommencer un peu plus concentré et après avoir regardé plus attentivement le manuel

Notamment, je me demande si les Français au Mexique sont joués par le joueur s'ils entrent en guerre aux côtés de la CSA ?
Salut,

Après plusieurs parties, niveau "normal" contre l'IA, gagner me semble assez facile des deux côtés. Sinon, l'intervention étrangère est un leurre, j'ai eu aussi bien l'intervention anglaise que française, dans les deux cas, la partie s'est arrêtée juste après. Alors oui on commande pour deux tours les troupes françaises au Mexique mais sans vraiment de plaisir. La messe est dite.
Sans intervention, les français font leur vie sans aucune participation du joueur...